OBDLink App
De OBDLink-app voor iPhone, iPad, iPod Touch en Android is inbegrepen bij de aankoop van elke OBDLink-adapter. Met krachtige diagnostische mogelijkheden kan de app diagnostische foutcodes (DTC's) lezen en het check engine-lampje resetten.

Toegang tot en weergave van informatie van de vele computermodules van je auto, uitvoeren van OEM-onderhoudsprocedures en realtime ritten in kaart brengen. Je kunt ook live parameters lezen, virtuele dashboards maken met meerdere voertuigsensoren, het brandstofverbruik schatten en nog veel meer.

De OBDLink-app werkt met alle auto's en lichte vrachtwagens vanaf 1996 en nieuwer die in de Verenigde Staten zijn verkocht, inclusief alle Amerikaanse, Europese en Aziatische voertuigen.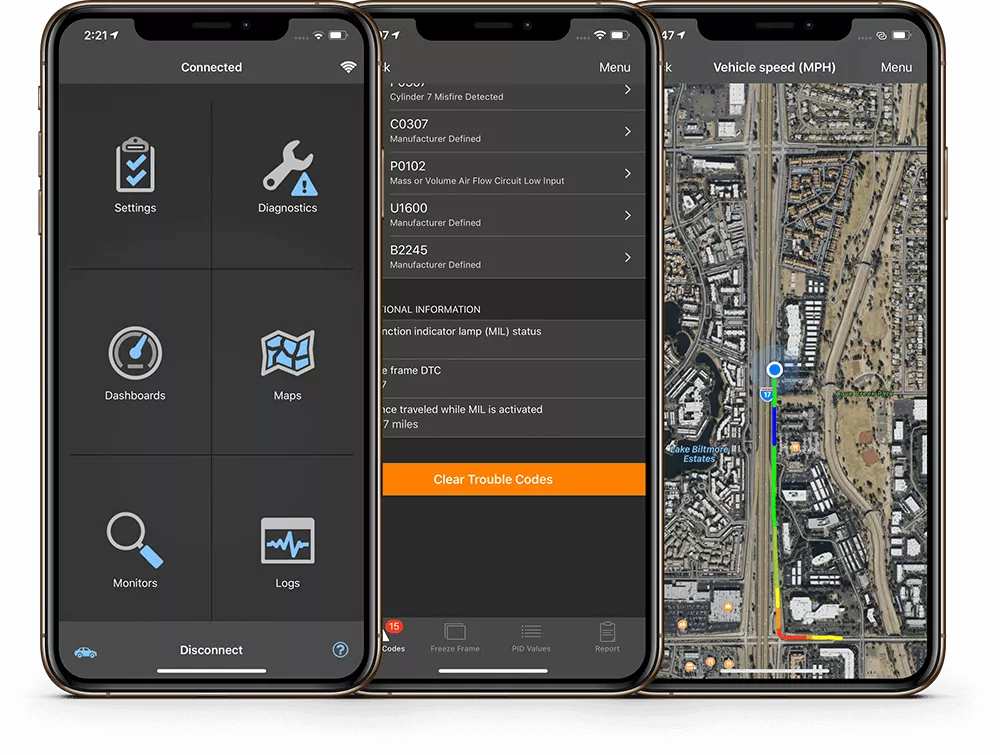 Uitgebreide diagnostiek
Uitgebreide diagnostiek voor Ford, Lincoln, Mercury, Mazda, Toyota, Lexus, Scion, Nissan en Infiniti voertuigen is beschikbaar. Krijg toegang tot extra modules zoals ABS, Airbag, Transmissie, 4x4 en Body Control modules. Controleer of uitgebreide diagnostiek beschikbaar is voor jouw voertuig.

Je hebt ook toegang tot honderden extra parameters die niet beschikbaar zijn via standaard OBD2. Uitgebreide diagnostiek is gratis bij OBDLink MX+ en kan in de app worden aangeschaft voor andere OBDLinks.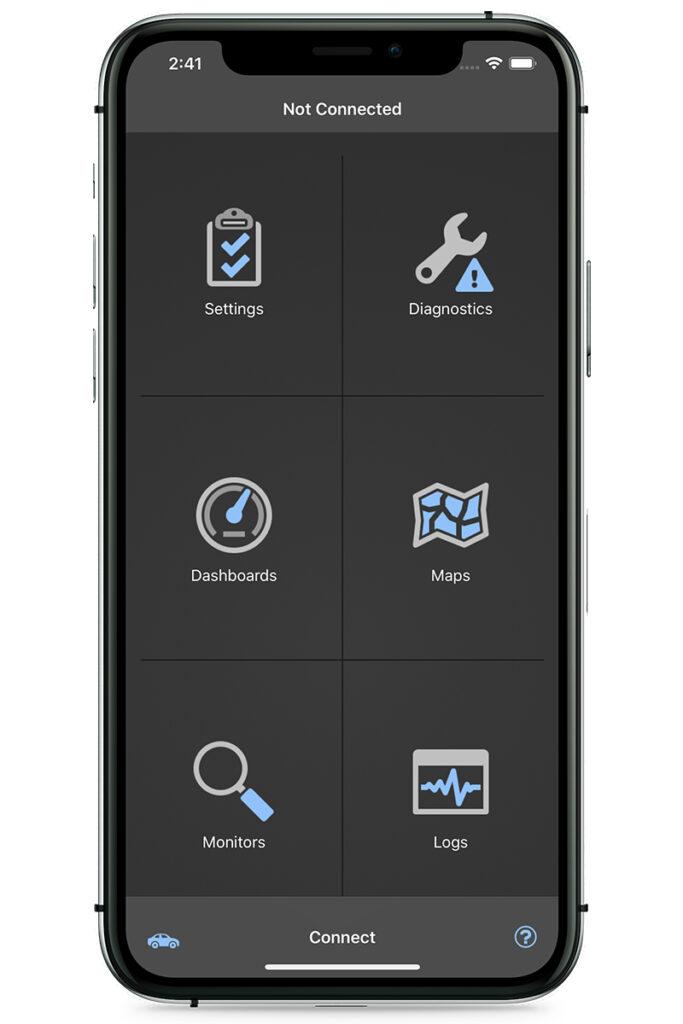 App mogelijkheden / features
In de OBDLink-app kun je eenvoudig instellingen aanpassen, adapterconfiguraties wijzigen, je eigen PIDs (Parameter ID's) maken en voertuiginformatie bewerken.
De diagnosefunctie geeft toegang tot foutcodes, momentopnamen van gegevens, live PID-gegevens en een volledig diagnostisch rapport dat je kunt opslaan en naar je monteur kunt sturen.
De dashboards zijn volledig aanpasbaar. Je kunt je eigen dashboard-indelingen maken en de PIDs selecteren die je wilt zien. Je kunt ook de meters volledig aanpassen of de ingebouwde sjablonen gebruiken voor snelle stijlwijzigingen.
De kaarten tonen je route op een live kaart. Je kunt een parameter selecteren, zoals voertuigsnelheid of brandstofverbruik, en een met kleur gecodeerd pad op basis van de waarde van die parameter weergeven. Als je offline bent, kun je zien waar je je auto hebt geparkeerd en loopaanwijzingen krijgen.
Monitors geven aan of je voertuig klaar is voor emissietests. Bovendien kun je resultaten van zuurstofsensortests, Mode $06-gegevens en voertuiginformatie zoals het VIN en kalibratie-ID bekijken.
Logs stellen je in staat om live gegevens grafisch weer te geven. Je kunt in realtime maximaal vier parameters grafisch weergeven! Je hebt ook toegang tot al je gelogde CSV-bestanden en kunt de bestanden openen in Kaarten of uploaden naar Dropbox.
ONDERSTEUNING SAE PIDS
OBDLink app ondersteunt de volgende SAE Parameter IDs:
| | |
| --- | --- |
| PID | Description |
| 0x00 | Supported PIDs 0x01 to 0x1F |
| 0x01 | Number of trouble codes, MIL indicator on/off, and available onboard tests |
| 0x02 | Freeze frame DTC |
| 0x03 | Fuel system 1 status |
| 0x03.1 | Fuel system 2 status |
| 0x04 | Calculated load value |
| 0x05 | Engine coolant temperature |
| 0x06 | Short term fuel % trim - Bank 1 |
| 0x06.1 | Short term fuel % trim - Bank 3 |
| 0x07 | Long term fuel % trim - Bank 1 |
| 0x07.1 | Long term fuel % trim - Bank 3 |
| 0x08 | Short term fuel % trim - Bank 2 |
| 0x08.1 | Short term fuel % trim - Bank 4 |
| 0x09 | Long term fuel % trim - Bank 2 |
| 0x09.1 | Long term fuel % trim - Bank 4 |
| 0x0A | Fuel rail pressure (gauge) |
| 0x0B | Intake manifold absolute pressure |
| 0x0C | Engine RPM |
| 0x0D | Vehicle speed |
| 0x0E | Ignition timing advance for #1 cylinder |
| 0x0F | Intake air temperature |
| 0x10 | Mass air flow rate |
| 0x11 | Absolute throttle position |
| 0x12 | Commanded secondary air status |
| 0x13 | Location of oxygen sensors |
| 0x14 | O2 voltage (Bank 1, Sensor 1) |
| 0x14.1 | Short term fuel trim (Bank 1, Sensor 1) |
| 0x15 | O2 voltage (Bank 1, Sensor 2) |
| 0x15.1 | Short term fuel trim (Bank 1, Sensor 2) |
| 0x16 | O2 voltage (Bank 1, Sensor 3) |
| 0x16.1 | Short term fuel trim (Bank 1, Sensor 3) |
| 0x17 | O2 voltage (Bank 1, Sensor 4) |
| 0x17.1 | Short term fuel trim (Bank 1, Sensor 4) |
| 0x18 | O2 voltage (Bank 2, Sensor 1) |
| 0x18.1 | Short term fuel trim (Bank 2, Sensor 1) |
| 0x19 | O2 voltage (Bank 2, Sensor 2) |
| 0x19.1 | Short term fuel trim (Bank 2, Sensor 2) |
| 0x1A | O2 voltage (Bank 2, Sensor 3) |
| 0x1A.1 | Short term fuel trim (Bank 2, Sensor 3) |
| 0x1B | O2 voltage (Bank 2, Sensor 4) |
| 0x1B.1 | Short term fuel trim (Bank 2, Sensor 4) |
| 0x1C | OBD requirements to which vehicle or engine is certified |
| 0x1D | Location of oxygen sensors |
| 0x1E | Auxiliary input status |
| 0x1F | Time since engine start |
| 0x20 | Supported PIDs 0x21 to 0x3F |
| 0x21 | Distance traveled while MIL is activated |
| 0x22 | Fuel rail pressure relative to manifold vacuum |
| 0x23 | Fuel rail pressure |
| 0x24 | O2 sensor lambda (Bank 1, Sensor 1) |
| 0x24.1 | O2 sensor voltage wide range (Bank 1, Sensor 1) |
| 0x25 | O2 sensor lambda (Bank 1, Sensor 2) |
| 0x25.1 | O2 sensor voltage wide range (Bank 1, Sensor 2) |
| 0x26 | O2 sensor lambda (Bank 1, Sensor 3) |
| 0x26.1 | O2 sensor voltage wide range (Bank 1, Sensor 3) |
| 0x27 | O2 sensor lambda (Bank 1, Sensor 4) |
| 0x27.1 | O2 sensor voltage wide range (Bank 1, Sensor 4) |
| 0x28 | O2 sensor lambda (Bank 2, Sensor 1) |
| 0x28.1 | O2 sensor voltage wide range (Bank 2, Sensor 1) |
| 0x29 | O2 sensor lambda (Bank 2, Sensor 2) |
| 0x29.1 | O2 sensor voltage wide range (Bank 2, Sensor 2) |
| 0x2A | O2 sensor lambda (Bank 2, Sensor 3) |
| 0x2A.1 | O2 sensor voltage wide range (Bank 2, Sensor 3) |
| 0x2B | O2 sensor lambda (Bank 2, Sensor 4) |
| 0x2B.1 | O2 sensor voltage wide range (Bank 2, Sensor 4) |
| 0x2C | Commanded EGR |
| 0x2D | EGR error |
| 0x2E | Commanded evaporative purge |
| 0x2F | Fuel level input |
| 0x30 | Number of warm-ups since DTCs cleared |
| 0x31 | Distance traveled since DTCs cleared |
| 0x32 | Evap system vapor pressure |
| 0x33 | Barometric pressure |
| 0x34 | O2 sensor lambda wide range (current probe) (Bank 1, Sensor 1) |
| 0x34.1 | O2 sensor current wide range (Bank 1, Sensor 1) |
| 0x35 | O2 sensor lambda wide range (current probe) (Bank 1, Sensor 2) |
| 0x35.1 | O2 sensor current wide range (Bank 1, Sensor 2) |
| 0x36 | O2 sensor lambda wide range (current probe) (Bank 1, Sensor 3) |
| 0x36.1 | O2 sensor current wide range (Bank 1, Sensor 3) |
| 0x37 | O2 sensor lambda wide range (current probe) (Bank 1, Sensor 4) |
| 0x37.1 | O2 sensor current wide range (Bank 1, Sensor 4) |
| 0x38 | O2 sensor lambda wide range (current probe) (Bank 2, Sensor 1) |
| 0x38.1 | O2 sensor current wide range (Bank 2, Sensor 1) |
| 0x39 | O2 sensor lambda wide range (current probe) (Bank 2, Sensor 2) |
| 0x39.1 | O2 sensor current wide range (Bank 2, Sensor 2) |
| 0x3A | O2 sensor lambda wide range (current probe) (Bank 2, Sensor 3) |
| 0x3A.1 | O2 sensor current wide range (Bank 2, Sensor 3) |
| 0x3B | O2 sensor lambda wide range (current probe) (Bank 2, Sensor 4) |
| 0x3B.1 | O2 sensor current wide range (Bank 2, Sensor 4) |
| 0x3C | Catalyst temperature (Bank 1 Sensor 1) |
| 0x3D | Catalyst temperature (Bank 2 Sensor 1) |
| 0x3E | Catalyst temperature (Bank 1 Sensor 2) |
| 0x3F | Catalyst temperature (Bank 2 Sensor 2) |
| 0x40 | Supported PIDs 0x41 to 0x5F |
| 0x41 | Monitor status this driving cycle |
| 0x42 | Control module voltage |
| 0x43 | Absolute load value |
| 0x44 | Fuel/Air commanded equivalence ratio |
| 0x45 | Relative throttle position |
| 0x46 | Ambient air temperature |
| 0x47 | Absolute throttle position B |
| 0x48 | Absolute throttle position C |
| 0x49 | Accelerator pedal position D |
| 0x4A | Accelerator pedal position E |
| 0x4B | Accelerator pedal position F |
| 0x4C | Commanded throttle actuator control |
| 0x4D | Engine run time run while MIL is activated |
| 0x4E | Engine run time since DTCs cleared |
| 0x51 | Fuel type |
| 0x52 | Alcohol fuel percentage |
| 0x53 | Absolute evap system vapor pressure |
| 0x54 | Evap system vapor pressure |
| 0x55 | Short term secondary oxygen sensor trim bank 1 |
| 0x55.1 | Short term secondary oxygen sensor trim bank 3 |
| 0x56 | Long term secondary oxygen sensor trim bank 1 |
| 0x56.1 | Long term secondary oxygen sensor trim bank 3 |
| 0x57 | Short term secondary oxygen sensor trim bank 2 |
| 0x57.1 | Short term secondary oxygen sensor trim bank 4 |
| 0x58 | Long term secondary oxygen sensor trim bank 2 |
| 0x58.1 | Long term secondary oxygen sensor trim bank 4 |
| 0x59 | Fuel rail pressure (absolute) |
| 0x5A | Relative accelerator pedal position |
| 0x5B | Hybrid battery pack remaining life |
| 0x5C | Engine oil temperature |
| 0x5D | Fuel injection timing |
| 0x5E | Engine fuel rate |
| 0x5F | Emission requirements to which vehicle is designed |
| 0x60 | Supported PIDs 0x61 to 0x7F |
| 0x61 | Driver's demand engine - percent torque |
| 0x62 | Actual engine - percent torque |
| 0x63 | Engine reference torque |
| 0x64 | Engine percent torque at idle |
| 0x64.1 | Engine percent torque at point 2 |
| 0x64.2 | Engine percent torque at point 3 |
| 0x64.3 | Engine percent torque at point 4 |
| 0x64.4 | Engine percent torque at point 5 |
| 0x65.1 | Auxiliary inputs / outputs status |
| 0x66.1 | Mass air flow sensor A |
| 0x66.2 | Mass air flow sensor B |
| 0x67.1 | Engine coolant temperature 1 |
| 0x67.2 | Engine coolant temperature 2 |
| 0x68.1 | Intake air temperature bank 1, sensor 1 |
| 0x68.2 | Intake air temperature bank 1, sensor 2 |
| 0x68.3 | Intake air temperature bank 1, sensor 3 |
| 0x68.4 | Intake air temperature bank 2, sensor 1 |
| 0x68.5 | Intake air temperature bank 2, sensor 2 |
| 0x68.6 | Intake air temperature bank 2, sensor 3 |
| 0x69.1 | Commanded EGR A duty cycle/position |
| 0x69.2 | Actual EGR A duty cycle/position |
| 0x69.3 | EGR A error |
| 0x69.4 | Commanded EGR B duty cycle/position |
| 0x69.5 | Actual EGR B duty cycle/position |
| 0x69.6 | EGR B error |
| 0x6A.1 | Commanded intake air flow A control |
| 0x6A.2 | Relative intake air flow A position |
| 0x6A.3 | Commanded intake air flow B control |
| 0x6A.4 | Relative intake air flow B position |
| 0x6B.1 | Exhaust gas recirculation temp sensor A (Bank 1 Sensor 1) |
| 0x6B.2 | Exhaust gas recirculation temp sensor C (Bank 1 Sensor 2) |
| 0x6B.3 | Exhaust gas recirculation temp sensor B (Bank 2 Sensor 1) |
| 0x6B.4 | Exhaust gas recirculation temp sensor D (Bank 2 Sensor 2) |
| 0x6C.1 | Commanded throttle actuator A control |
| 0x6C.2 | Relative throttle A position |
| 0x6C.3 | Commanded throttle actuator B control |
| 0x6C.4 | Relative throttle B position |
| 0x6D.1 | Commanded fuel rail pressure A |
| 0x6D.2 | Fuel rail pressure A |
| 0x6D.3 | Fuel rail temperature A |
| 0x6D.4 | Commanded fuel rail pressure B |
| 0x6D.5 | Fuel rail pressure B |
| 0x6D.6 | Fuel rail temperature B |
| 0x6E.1 | Commanded injection control pressure A |
| 0x6E.2 | Injection control pressure A |
| 0x6E.3 | Commanded injection control pressure B |
| 0x6E.4 | Injection control pressure B |
| 0x6F.1 | Turbocharger compressor inlet pressure sensor A |
| 0x6F.2 | Turbocharger compressor inlet pressure sensor B |
| 0x70.1 | Commanded boost pressure A |
| 0x70.2 | Boost pressure sensor A |
| 0x70.3 | Commanded boost pressure B |
| 0x70.4 | Boost pressure sensor B |
| 0x70.5 | Boost pressure A control status |
| 0x70.6 | Boost pressure B control status |
| 0x71.1 | Commanded variable geometry turbo A position |
| 0x71.2 | Variable geometry turbo A position |
| 0x71.3 | Commanded variable geometry turbo B position |
| 0x71.4 | Variable geometry turbo B position |
| 0x71.5 | VGT A control status |
| 0x71.6 | VGT B control status |
| 0x72.1 | Commanded wastegate A position |
| 0x72.2 | Wastegate A position |
| 0x72.3 | Commanded wastegate B position |
| 0x72.4 | Wastegate B position |
| 0x73.1 | Exhaust pressure sensor bank 1 |
| 0x73.2 | Exhaust pressure sensor bank 2 |
| 0x74.1 | Turbocharger A RPM |
| 0x74.2 | Turbocharger B RPM |
| 0x75.1 | Turbocharger A compressor inlet temperature |
| 0x75.2 | Turbocharger A compressor outlet temperature |
| 0x75.3 | Turbocharger A turbine inlet temperature |
| 0x75.4 | Turbocharger A turbine outlet temperature |
| 0x76.1 | Turbocharger B compressor inlet temperature |
| 0x76.2 | Turbocharger B compressor outlet temperature |
| 0x76.3 | Turbocharger B turbine inlet temperature |
| 0x76.4 | Turbocharger B turbine outlet temperature |
| 0x77.1 | Charge air cooler temperature bank 1, sensor 1 |
| 0x77.2 | Charge air cooler temperature bank 1, sensor 2 |
| 0x77.3 | Charge air cooler temperature bank 2, sensor 1 |
| 0x77.4 | Charge air cooler temperature bank 2, sensor 2 |
| 0x78.1 | Exhaust gas temperature bank 1, sensor 1 |
| 0x78.2 | Exhaust gas temperature bank 1, sensor 2 |
| 0x78.3 | Exhaust gas temperature bank 1, sensor 3 |
| 0x78.4 | Exhaust gas temperature bank 1, sensor 4 |
| 0x79.1 | Exhaust gas temperature bank 2, sensor 1 |
| 0x79.2 | Exhaust gas temperature bank 2, sensor 2 |
| 0x79.3 | Exhaust gas temperature bank 2, sensor 3 |
| 0x79.4 | Exhaust gas temperature bank 2, sensor 4 |
| 0x7A.1 | DPF bank 1 delta pressure |
| 0x7A.2 | DPF bank 1 inlet pressure |
| 0x7A.3 | DPF bank 1 outlet pressure |
| 0x7B.1 | DPF bank 2 delta pressure |
| 0x7B.2 | DPF bank 2 inlet pressure |
| 0x7B.3 | DPF bank 2 outlet pressure |
| 0x7C.1 | DPF bank 1 inlet temperature sensor |
| 0x7C.2 | DPF bank 1 outlet temperature sensor |
| 0x7C.3 | DPF bank 2 inlet temperature sensor |
| 0x7C.4 | DPF bank 2 outlet temperature sensor |
| 0x7D | NOx NTE control area status |
| 0x7E | PM NTE control area status |
| 0x7F.1 | Total engine run time |
| 0x7F.2 | Total idle run time |
| 0x7F.3 | Total run time with PTO active |
| 0x80 | Supported PIDs 0x81 to 0x9F |
| 0x81.1 | Total run time with EI-AECD #1 Timer 1 active |
| 0x81.2 | Total run time with EI-AECD #1 Timer 2 active |
| 0x81.3 | Total run time with EI-AECD #2 Timer 1 active |
| 0x81.4 | Total run time with EI-AECD #2 Timer 2 active |
| 0x81.5 | Total run time with EI-AECD #3 Timer 1 active |
| 0x81.6 | Total run time with EI-AECD #3 Timer 2 active |
| 0x81.7 | Total run time with EI-AECD #4 Timer 1 active |
| 0x81.8 | Total run time with EI-AECD #4 Timer 2 active |
| 0x81.9 | Total run time with EI-AECD #5 Timer 1 active |
| 0x81.10 | Total run time with EI-AECD #5 Timer 2 active |
| 0x82.1 | Total run time with EI-AECD #6 Timer 1 active |
| 0x82.2 | Total run time with EI-AECD #6 Timer 2 active |
| 0x82.3 | Total run time with EI-AECD #7 Timer 1 active |
| 0x82.4 | Total run time with EI-AECD #7 Timer 2 active |
| 0x82.5 | Total run time with EI-AECD #8 Timer 1 active |
| 0x82.6 | Total run time with EI-AECD #8 Timer 2 active |
| 0x82.7 | Total run time with EI-AECD #9 Timer 1 active |
| 0x82.8 | Total run time with EI-AECD #9 Timer 2 active |
| 0x82.9 | Total run time with EI-AECD #10 Timer 1 active |
| 0x82.10 | Total run time with EI-AECD #10 Timer 2 active |
| 0x83.1 | NOx sensor concentration bank 1 sensor 1 |
| 0x83.2 | NOx sensor concentration bank 1 sensor 2 |
| 0x83.3 | NOx sensor concentration bank 2 sensor 1 |
| 0x83.4 | NOx sensor concentration bank 2 sensor 2 |
| 0x84 | Manifold surface temperature |
| 0x85.1 | Average NOx reagent consumption |
| 0x85.2 | Average demanded NOx reagent consumption |
| 0x85.3 | NOx reagent tank level |
| 0x85.4 | Total engine run time while NOx warning mode is activated |
| 0x86.1 | PM sensor mass concentration bank 1 sensor 1 |
| 0x86.2 | PM sensor mass concentration bank 2 sensor 1 |
| 0x87.1 | Intake manifold absolute pressure A |
| 0x87.2 | Intake manifold absolute pressure B |
| 0x88 | SCR inducement system actual state |
| 0x88.1 | SCR inducement system state 10K history (0 - 10,000 km) |
| 0x88.2 | SCR inducement system state 20K history (10,000 - 20,000 km) |
| 0x88.3 | SCR inducement system state 30K history (20,000 - 30,000 km) |
| 0x88.4 | SCR inducement system state 40K history (30,000 - 40,000 km) |
| 0x88.5 | Distance travelled while SCR inducement system active in current 10K block (0 - 10,000 km) |
| 0x88.6 | Distance travelled in current SCR 10K block (0 - 10,000 km) |
| 0x88.7 | Distance travelled while SCR inducement system active in current 20K block (10,000 - 20,000 km) |
| 0x88.8 | Distance travelled while SCR inducement system active in current 30K block (20,000 - 30,000 km) |
| 0x88.9 | Distance travelled while SCR inducement system active in current 40K block (30,000 - 40,000 km) |
| 0x89.1 | Total run time with EI-AECD #11 Timer 1 active |
| 0x89.2 | Total run time with EI-AECD #11 Timer 2 active |
| 0x89.3 | Total run time with EI-AECD #12 Timer 1 active |
| 0x89.4 | Total run time with EI-AECD #12 Timer 2 active |
| 0x89.5 | Total run time with EI-AECD #13 Timer 1 active |
| 0x89.6 | Total run time with EI-AECD #13 Timer 2 active |
| 0x89.7 | Total run time with EI-AECD #14 Timer 1 active |
| 0x89.8 | Total run time with EI-AECD #14 Timer 2 active |
| 0x89.9 | Total run time with EI-AECD #15 Timer 1 active |
| 0x89.10 | Total run time with EI-AECD #15 Timer 2 active |
| 0x8A.1 | Total run time with EI-AECD #16 Timer 1 active |
| 0x8A.2 | Total run time with EI-AECD #16 Timer 2 active |
| 0x8A.3 | Total run time with EI-AECD #17 Timer 1 active |
| 0x8A.4 | Total run time with EI-AECD #17 Timer 2 active |
| 0x8A.5 | Total run time with EI-AECD #18 Timer 1 active |
| 0x8A.6 | Total run time with EI-AECD #18 Timer 2 active |
| 0x8A.7 | Total run time with EI-AECD #19 Timer 1 active |
| 0x8A.8 | Total run time with EI-AECD #19 Timer 2 active |
| 0x8A.9 | Total run time with EI-AECD #20 Timer 1 active |
| 0x8A.10 | Total run time with EI-AECD #20 Timer 2 active |
| 0x8B.1 | Diesel aftertreatment status |
| 0x8B.2 | DPF regen status |
| 0x8B.3 | DPF regen type |
| 0x8B.4 | NOx adsorber regen status |
| 0x8B.5 | NOx adsorber desulfurization status |
| 0x8B.6 | Normalized trigger for DPF regen |
| 0x8B.7 | Average time between DPF regens |
| 0x8B.8 | Average distance between DPF regens |
| 0x8C.1 | O2 sensor concentration bank 1 sensor 1 |
| 0x8C.2 | O2 sensor concentration bank 1 sensor 2 |
| 0x8C.3 | O2 sensor concentration bank 2 sensor 1 |
| 0x8C.4 | O2 sensor concentration bank 2 sensor 2 |
| 0x8C.5 | O2 sensor lambda bank 1 sensor 1 |
| 0x8C.6 | O2 sensor lambda bank 1 sensor 2 |
| 0x8C.7 | O2 sensor lambda bank 2 sensor 1 |
| 0x8C.8 | O2 sensor lambda bank 2 sensor 2 |
| 0x8D | Absolute throttle position G |
| 0x8E | Engine friction - percent torque |
| 0x8F.1 | PM sensor operating status bank 1 sensor 1 |
| 0x8F.2 | PM sensor active status bank 1 sensor 1 |
| 0x8F.3 | PM sensor regen status bank 1 sensor 1 |
| 0x8F.4 | PM sensor normalized output value bank 1 sensor 1 |
| 0x8F.5 | PM sensor operating status bank 2 sensor 1 |
| 0x8F.6 | PM sensor active status bank 2 sensor 1 |
| 0x8F.7 | PM sensor regen status bank 2 sensor 1 |
| 0x8F.8 | PM sensor normalized output value bank 2 sensor 1 |
| 0x90 | WWH-OBD discriminatory/nondiscriminatory display strategy |
| 0x90.1 | WWH-OBD vehicle malfunction indicator status |
| 0x90.2 | WWH-OBD emission system readiness |
| 0x90.3 | WWH-OBD Number of engine operating hours that the continuous MI was active. (Continuous MI counter) |
| 0x91 | WWH-OBD ECU malfunction indication status |
| 0x91.1 | WWH-OBD ECU Number of engine operating hours that the continuous MI was active. (Continuous MI counter) |
| 0x91.2 | WWH-OBD ECU highest ECU B1 counter |
| 0x92.1 | Fuel system control status |
| 0x93.1 | WWH-OBD vehicle cumulative continuous MI counter |
| 0x94.1 | NOx warning and inducement system status |
| 0x94.2 | NOx system reagent quality counter |
| 0x94.3 | NOx system reagent consumption counter |
| 0x94.4 | NOx system dosing activity counter |
| 0x94.5 | NOx system EGR valve counter |
| 0x94.6 | NOx system monitoring system counter |
| 0x98.1 | Exhaust gas temperature bank 1, sensor 5 |
| 0x98.2 | Exhaust gas temperature bank 1, sensor 6 |
| 0x98.3 | Exhaust gas temperature bank 1, sensor 7 |
| 0x98.4 | Exhaust gas temperature bank 1, sensor 8 |
| 0x99.1 | Exhaust gas temperature bank 2, sensor 5 |
| 0x99.2 | Exhaust gas temperature bank 2, sensor 6 |
| 0x99.3 | Exhaust gas temperature bank 2, sensor 7 |
| 0x99.4 | Exhaust gas temperature bank 2, sensor 8 |
| 0x9A.1 | Hybrid/EV Charging State |
| 0x9A.2 | Enhanced Hybrid/EV Charging State |
| 0x9A.3 | Hybrid/EV Battery System Voltage |
| 0x9A.4 | Hybrid/EV Battery System Current |
| 0x9B.1 | DEF Concentration |
| 0x9B.2 | DEF Tank Temperature |
| 0x9B.3 | DEF Tank Level |
| 0x9C.1 | O2 sensor concentration bank 1 sensor 3 |
| 0x9C.2 | O2 sensor concentration bank 1 sensor 4 |
| 0x9C.3 | O2 sensor concentration bank 2 sensor 3 |
| 0x9C.4 | O2 sensor concentration bank 2 sensor 4 |
| 0x9C.5 | O2 sensor lambda bank 1 sensor 3 |
| 0x9C.6 | O2 sensor lambda bank 1 sensor 4 |
| 0x9C.7 | O2 sensor lambda bank 2 sensor 3 |
| 0x9C.8 | O2 sensor lambda bank 2 sensor 4 |
| 0x9D | Engine Fuel Rate |
| 0x9D.1 | Vehicle Fuel Rate |
| 0x9E | Engine Exhaust Flow Rate |
| 0x9F.1 | Fuel System A Use Percentage Bank 1 |
| 0x9F.2 | Fuel System B Use Percentage Bank 1 |
| 0x9F.3 | Fuel System A Use Percentage Bank 2 |
| 0x9F.4 | Fuel System B Use Percentage Bank 2 |
| 0x9F.5 | Fuel System A Use Percentage Bank 3 |
| 0x9F.6 | Fuel System B Use Percentage Bank 3 |
| 0x9F.7 | Fuel System A Use Percentage Bank 4 |
| 0x9F.8 | Fuel System B Use Percentage Bank 4 |
| 0xA0 | Supported PIDs 0xA1 to 0xCF |
| 0xA1.1 | NOx Sensor Corrected Concentration Bank 1 Sensor 1 |
| 0xA1.2 | NOx Sensor Corrected Concentration Bank 1 Sensor 2 |
| 0xA1.3 | NOx Sensor Corrected Concentration Bank 2 Sensor 1 |
| 0xA1.4 | NOx Sensor Corrected Concentration Bank 2 Sensor 2 |
| 0xA2 | Cylinder Fuel Rate |
| 0xA3.1 | Evap System Vapor Pressure A |
| 0xA3.2 | Evap System Vapor Pressure A (wide range) |
| 0xA3.3 | Evap System Vapor Pressure B |
| 0xA3.4 | Evap System Vapor Pressure B (wide range) |
| 0xA4.1 | Transmission Actual Gear Status |
| 0xA4.2 | Transmission Actual Gear Ratio |
| 0xA5.1 | Commanded DEF Dosing |
| 0xA5.2 | DEF Usage for the Current Driving Cycle |
| 0xA6 | Vehicle Odometer Reading |
| 0xA7.1 | NOx Sensor Concentration Bank 1 Sensor 3 |
| 0xA7.2 | NOx Sensor Concentration Bank 1 Sensor 4 |
| 0xA7.3 | NOx Sensor Concentration Bank 2 Sensor 3 |
| 0xA7.4 | NOx Sensor Concentration Bank 2 Sensor 4 |
| 0xA8.1 | NOx Sensor Corrected Concentration Bank 1 Sensor 3 Corrected |
| 0xA8.2 | NOx Sensor Corrected Concentration Bank 1 Sensor 4 Corrected |
| 0xA8.3 | NOx Sensor Corrected Concentration Bank 2 Sensor 3 Corrected |
| 0xA8.4 | NOx Sensor Corrected Concentration Bank 2 Sensor 4 Corrected |
| 0xA9.1 | Motorcycle ABS Disable Switch State |