OBD2 Extension cable angle 16 pins 100cm
OBD2 Extension cable angle 16 pins 100cm
The 100cm OBD2 extension cable with a so-called angle (cable goes into the side of the plug to save space) can be used on a standard OBD2 connector to extend the cable of your diagnostic device. If the OBD connector hinders while driving, it can be moved to another location using the extension cable. The OBD2 extension cable also helps to get a stronger wireless signal by moving the location of the connector for connecting wireless reading equipment. It sometimes happens that the wireless signal is not strong enough when the connector is too far below the steering wheel.
Read more
Got a question about this product?
Our team is ready to answer all your questions.
FAQ
Contact us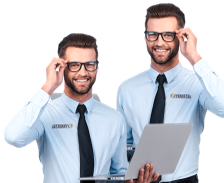 OBD2 extension cable 100cm angle
If the OBD port in your car is not easily accessible, the cable from your diagnostic tool is not long enough, or the signal from the wireless reader is not good, you can use an OBD2 extension cable to make things workable. With a longer cable, the diagnostic device is more flexible to use, or the wireless readout device can be moved, making the signal better.
What are the specifications of the OBD extension cable angle?
Type: OBD2 male to female
Plug: corner (special for small spaces), 16 pin to 16 pin (standard OBD2 connector)
Length cable: 100cm
The cable and plug are made of sturdy materials, also suitable for intensive use
What do you get delivered?
You will receive a 100cm OBD2 extension cable, by parcel post.
Why buy a 100cm OBD2 extension cable with a corner plug?
If the OBD2 connection in the car is difficult to reach, you can use the extension cable to make the connection elsewhere.
You can extend the cable of the diagnostic device to make it easier to work with, even outside the car.
The wireless diagnostic equipment can be placed in a better location to improve the signal range.
Useful to extend an interface cable for the laptop so that the laptop can be put on the passenger seat, for example for data logging.
1 plug is wired on the side, so this plug also fits in diagnostic sockets placed in tight spaces.
The cable can fix the known problems with the overly roomy Citroen and Peugeot diagnostic connectors, due to the thicker plugs, which do make connection and prevent communication problems.
Advantages & drawbacks
The location of the OBD connection can be moved with this cable, making it easier to access
With this extension cable you can make the cable so long that you can also us the diagnostic tool outside the car
The plug has a cable on the side of the connection. The plug requires very little space
Too long and stiff to be able to conceal properly
No reviews have been published.